In the world of education, teachers are often seen as the frontline soldiers in the fight for change. They are responsible for molding the next generation of leaders and shaping the minds of young people who will go on to make an impact in the world.
At Miles2Smile, we have been working with the prime objective of empowering underprivileged & communal violence victims' children by providing them education and psychosocial support under 'Shaagird', a visionary mission by Miles2Smile foundation.
Shaagird envisions a future where we see more empathetic leaders, compassionate doctors, engineers & lawyers. Why? So that they can work together to make the world a better place – "A world with long-lasting peace".
However, if we raise our kids in conflicting environments, the impact of such distress on children can be devastating and long-lasting. It can have a direct influence on their psychological and social development, and also a far-reaching effect on how a child sees their future and their place in the world.
For example, children growing up in distressing environments such as riots, neighbor fighting, and even their parents quarreling at home may impact them adversely. As a result, they may take extreme steps, feel insecure, and confused. Some children may even develop mental health problems and others choose violence to vent their anger and frustration.
And, If not addressed appropriately, these children have a heartbreaking chance to grow up to become aggressive adults who might choose war or violence to resolve problems rather than dialogue or diplomacy.
It all starts from an early young age, when kids are in their schools or in their homes. When their parents or their teachers through an affectionate environment enable them to choose love over hate, peace over war, compassion over anger, and friendship over conflict.
At Miles2Smile foundation, we strive to do just that – we train our teachers at all of our learning centers & schools to always be attentive to the students' needs and to look for signs in them, if a child seems stressed, or does not participate in the class activities.
How we define Violence & Distress ?
Violence is basically a failure of harmonious relationship and understanding between the two parties, stemming out of fear or hatred. It is an extreme step that is taken as a last resort – mostly as a result of impatience. During such times, children are the worst affected because they really cannot understand what is going on around them, and they are mostly the ones whose needs are often neglected by us.
Sensing the importance of fulfilling this need, Miles2Smile foundation established a relief school for the children of violence victim families & other disadvantaged groups to provide them with a nurturing environment and a free, or low-cost education up to primary & secondary levels.
Meanwhile, all of these kids stay with their families, they are further supported & encouraged to continue their higher studies in their field of interest, under the mission "SHAAGIRD".
The mission Shaagird follows a four-pronged holistic approach, with a prime focus on –
Children
Teachers
Learning Environment
Community Engagement
There are also sponsorships & vocational training programmes to facilitate easy transition from learning to earning and giving less privileged, madarsa students & violence victims children equal opportunities to pursue higher education, professional courses and technical careers.
Through Shaagird, we strive to build a platform that will help disadvantaged kids learn and grow as individuals, and actively reduce the negative effects of violence & deprivation on children

Aasif Mujtaba, Founder & Director, Miles2Smile
We believe, if initially nurtured with love & care, children will be able to develop a feeling of self-efficacy, as well as take a more proactive stance towards their own life and career.
This may seem far-fetched but a small sapling becomes a tree
While we follow no straight-jacket mantra to teach a child, as each child is unique and has its own needs. The safe and secure learning environment, coupled with highly trained faculties at our learning facilities, allows our children to get the same educational opportunities as any other school-going youngster.
However, we believe there can be three words to ensure for any child a great childhood – Love, Care, and Safety. Therefore, at each Miles2Smile foundation learning facility, all of our teachers show the utmost love and care to each child who comes to attend our learning programs.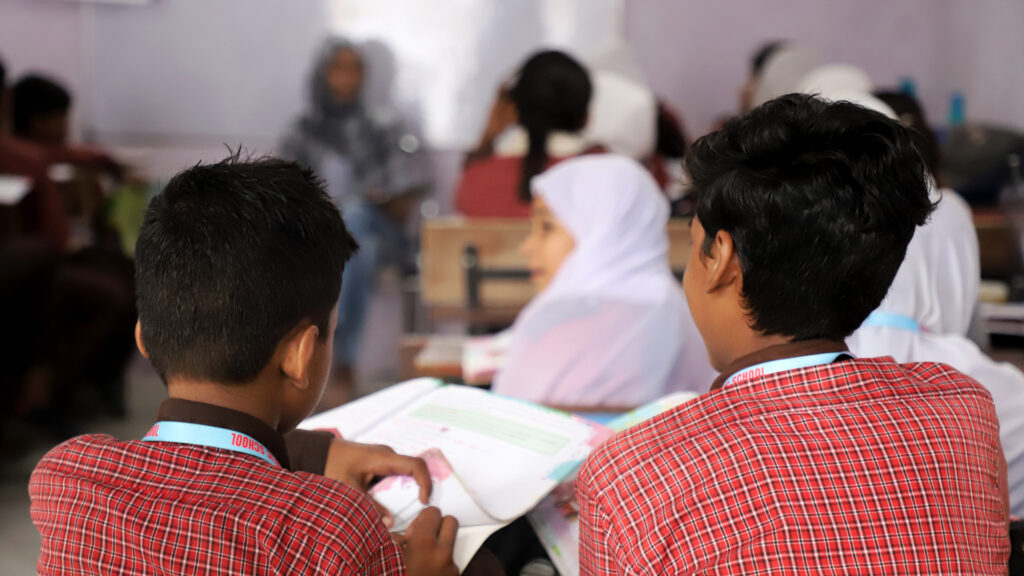 You See, You Care! There is No formula here
In addition, teachers at our learning facilities also identify areas of improvement and suggest solutions to problems they encounter in the classroom.
Miles2Smile empowers teachers by appreciating & acknowledging their hard work. It is them without whom no change in society is possible. They not only impart knowledge but also instill values, promote critical thinking, and help children develop important life skills. They are often the first point of contact for students who are struggling and can provide emotional support and guidance.
"In a world where you can be anything, Be Kind!"