43-year-old Amir Alam Khan owned a medical store at Purani Bazaar in Barharia Siwan. On the day of violence, upon getting wind of the impending danger, he decided to shut his shop which was located in lane, predominantly occupied by Hindu businesses. As he was making his way home, he glanced up and saw a mob climbing up to his store and breaking the shutter locks. He went back to confront them but they threatened to kill him if he didn't leave the area immediately.
After the helpless Khan left, they took his refrigerator, computer, and the wooden counter out and set it all on fire. They also stole all the cash kept in the shop's locker. – he estimated losses of Rs 1.5-2 lakh.
Amir recounts how he had started from scratch and put in decades of effort to take a shop on rent to run his own medical store two years ago, but now everything has ended for Khan. He is the sole breadwinner in his family, he has three young daughters who are studying. It was through this medical store, he was earning a square meal.
Khan said with despair in his voice, "some people in the mob lived in his own neighborhood. He believes it was a part of a conspiracy, as only his shuttered shop was burned and looted. "The shop next to him belonged to a non-Muslim, and they didn't damage his store."
On the afternoon of September 8, 2022, hundreds of saffron-clad men with sticks and swords held the annual Mahaviri Akhara Rally in Barharia village, in Siwan district of Bihar. The rally became violent at Madni masjid near Purani Bazaar. Local witnesses said Muslims were praying early in the evening inside the mosque as rally goers danced to provocative music outside.
The rally goers entered the mosque and clashed with Namazis, as the former swooped upon those holding the namaz inside the mosque. The tussle resulted in widespread havoc on Muslim's businesses.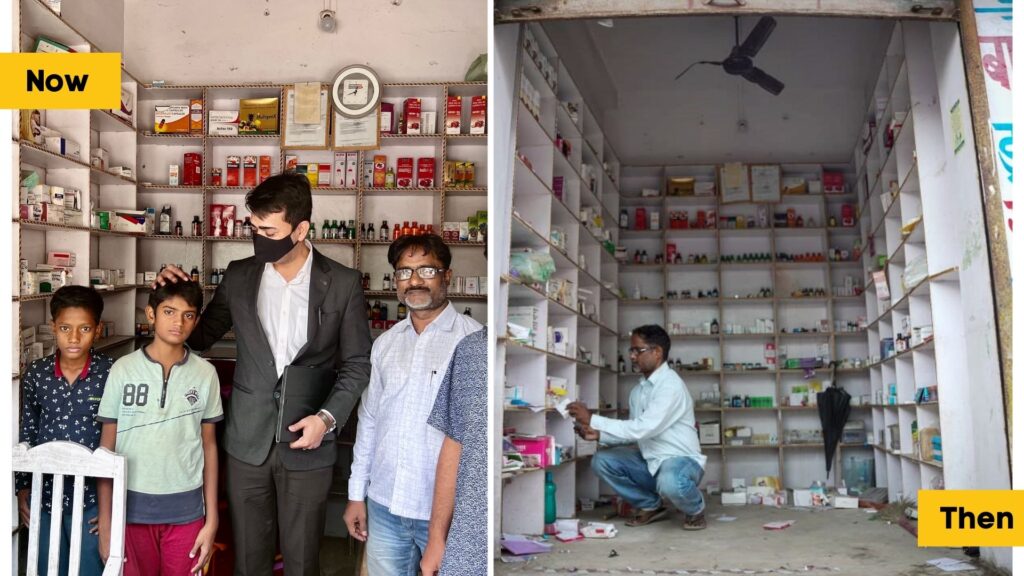 Burdened with a mental trauma, Khan was distraught over his loss, when miles2smile visited his shop. He was concerned about how he would restart his business, as all of his savings laid in soot. Miles2smile provided him with financial assistance. of 50,000 that we could accumulate from the fundraiser. With the money, Amir is trying to rebuild his life and we hope that soon he can reach the pre-violence prosperity.
Amir's family was so grateful for the help !